NEWS AND UPDATES
We are always looking for amazing Guest Contributors to add to our content. If you have a great story regarding Anime, Sci-fi, Drama, Fantasy or Fiction email us. If you are attending an upcoming convention and would like to inform our readers Contact Us at DeRaville.Sisters@gmail.com
Midgard 2019 in Kopvagur, Iceland was a blast! We had so much fun meeting up with some of our best fans in the world! The event was at a much larger venue and added more experiences to its program. Sonise even cosplayed this year! Check her out standing on the far left (as if you would miss it!)
Volume 4 is just around the corner. We have some new short stories and illustrations that we're sure you will enjoy! We are also headed to Iceland's Midgard 2019. We hope to see you there! Then, coming soon, there is our new merchandise that you are sure to love!
On another note we are always looking for guest contributors. If you have a story to tell or some amazing images from a Comic Con that you've attended, reach out to us at and tell us about it at deraville.sisters@gmail.com. If you would like to be considered for Cosplayer of the Month DM us on our IG: account @space_aliens_bad_mothers_guns. Or, you can just say hello and drop us an email!
Check back for updates!
The original O.G. Commander of the Enterprise, Star Trek's William Shatner is slated to attend, as well as Luke Spiner of Star Trek: The Next Generation and Brent Colter of Luke Cage. VISIT https://www.bigapplecc.com/ for tickets and more information. SEE YOU THERE!
We're always looking for a few good contributors! If you have a short story that you would like for us to publish in our online magazine, are visiting an upcoming convention and want to let us know how much you enjoyed (or if you were disappointed), have us post an illustration that you've personally drawn or if you just would like to send us a comment to post DM us on Instagram @OfficialSABMG or @space_aliens_bad_mothers_guns.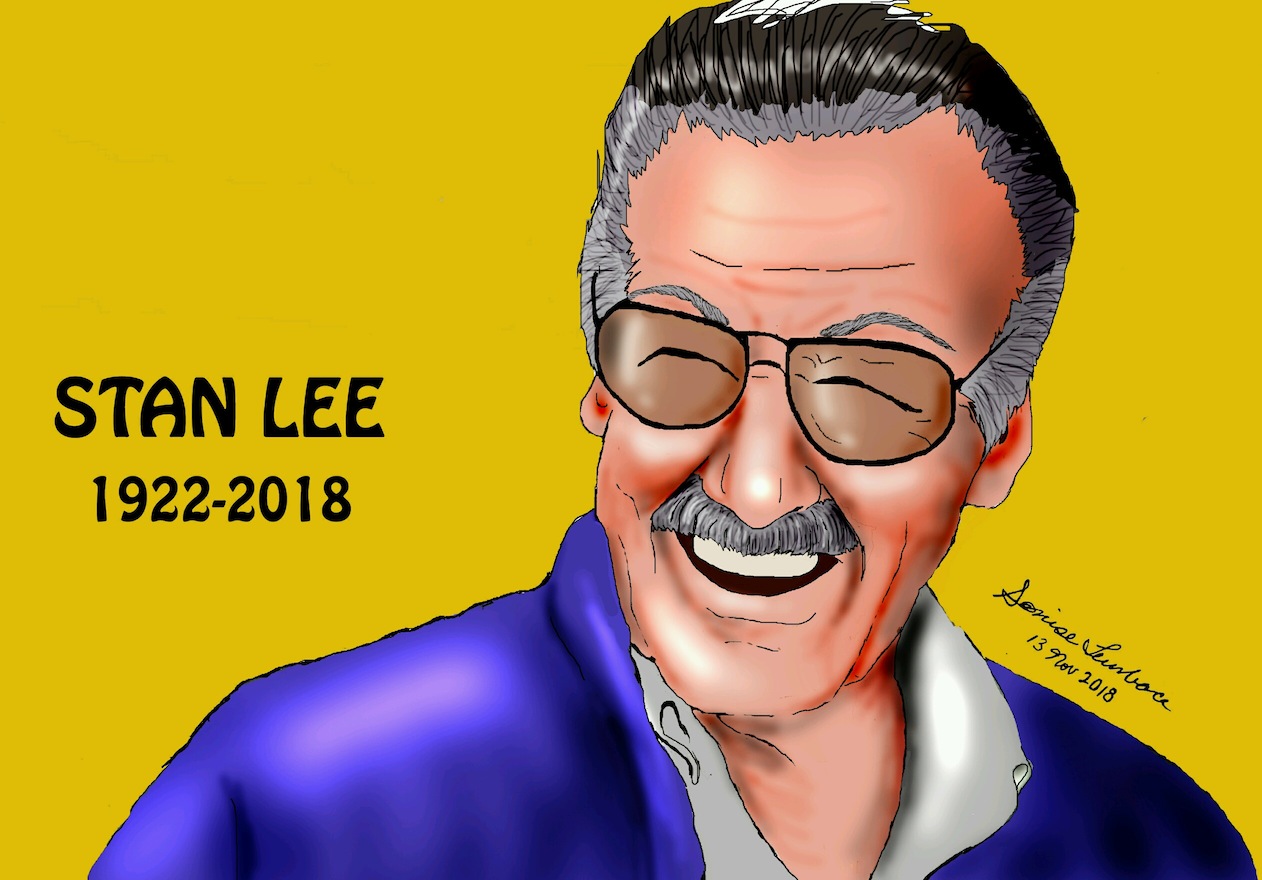 Our hearts are heavy with sadness hearing about the passing of Stan Lee. For some of us, it was almost as if we knew he would always be here with us. Each passing moment egged on our excitement of what would come next from him and his empire. Well, now the Universe has him and we hope he is there doing what he loves best.
Stan Lee, the Man, will be missed, but he will live on in our hearts as we continue to dare to dream. Seeing any one of his characters, we hope, will almost be the same as seeing him. Each time we see Black Panther, Spider-Man, The Hulk, and Jean Grey or any superhero for that matter, we will be reminded of the great impact he had on all of us and the way he revolutionized the comic world.
SPACE ALIENS, BAD MOTHERS AND GUNS! Volume 3 will be available on Amazon, September 1. Click here for more details!
We are pleased to announce that we will be releasing Space Aliens, Bad Mothers And Guns!: Volume 3 in the fall (maybe even sooner!)
In this next volume "Adipose" returns continuing on with Celine and the Commander as they search for the path to the North. We also meet Frith, before she becomes "Frith" in the story "The Game!"
Sonise has given us a nice dose of Fantasy, but she continues to point out those societal norms that we all are accustomed to, "rights and wrongs", with some twists and others with hilarity.
We will keep you all posted with an exact date! Until then, if you have not already, check out Volumes 1 & 2 here at Amazon.com
Ayesha DeRaville
Iceland on the horizon - midgard 2018
We are excited to announce that Midgard 2018 has welcomed us to their event. It is Iceland's first all-inclusive convention! Some of you are also following us on our other social media platforms and are aware of our GoFundMe page. We greatly appreciate those of you that have supported us either with your donations, follows, likes and comments. There are a lot of emotions going through our minds as we prep our books and other materials for the approaching deadline. It's mind-blowing, exciting, and a little nerve-racking for us to imagine taking our books internationally. We will keep everyone updated as we move forward. Thank you all so much!
Sci-fi saturday night and #sabmg
Hey All! We have an upcoming interview with "Sci-fi Saturday Night", the popular New Hampshire based radio show. We'll talk about our writing, art and of course our books! "Space Aliens, Bad Mothers and Guns! Volume 1 & 2. Scheduled to air June 2, 2018. Check Sci-Fi Saturday Night's site for the entire interview. Sci-Fi Saturday Night Interview! We had so much fun! http://scifisaturdaynight.com/ #SABMG
TIDEWATER COMIC-CON 2018
We are headed south to the Tidewater Comic-con in Virginia Beach, Virginia! If you have time, drop by and say hello! This will be our first time attending the Virginia Beach event being held from May 12th - 13th at the Virginia Beach Convention Center - 1000 19th Street, Virginia Beach, VA 23451. For information on the event please click the link below.
https://tidewatercomicon.com/about/
GREEN MOUNTAIN COMIC EXPO 2018
SONISE LUMBACA & AYESHA DERAVILLE will be exhibiting at the Green Mountain Comic Expo at the Barre Civic Center in Barre, VT on Saturday April 14th and Sunday April 15th, 2018. Click here for more details. https://www.moultonconventions.com/gmce-2018.html
T-SHIRTS ARE IN!
For those of you looking for a more subtle design (though we prefer sporting Celine), our black T-shirts are in. Check out our Merch page and order yours today!
SABMG! IS NOW ON YOUTUBE!
The Space Aliens Bad Mothers and Guns! book series team is uploading videos for you to watch. Now you can see some of your favorite IG videos as well as get to know the authors better by learning about how they came up with story ideas for the book as well as the drawings and animations. #SAMBG
WINTERCON 2017
We had the pleasure of meeting so many cool fans and cosplayers as well as making new friends. Shout out to Geeks of All Ages, Clutch: The Boy Wonder, Kevin Rosario, Ricky and Nikki Griffin! Check out some of the costumes and all of the excitement here http://www.mamboso.net/nuyorican/2017/12/03/wintercon-2017/
BALTIMORE COMIC-CON 2017
"Space Aliens, Bad Mothers and Guns!" made it's debut at the 19th annual Baltimore Comic-Con! September 22-24!